What is a Fedora Hat ?
Nov 16, 2022 by HatsFashion
"What is a fedora hat" is often asked by many people as fedoras are undeniably eye-catching and can be a perfect accent to almost any outfit, formal or casual. A fedora is a hat with a soft brim and indented crown. The fedora crown is usually four or four and a half inches, with a pronounced "pinch" in the front of the crown. A fedora has either a "teardrop" or a "center dent" crown, and these ornamentations are pressed an inch or two into the crown of the hat. They can also be lined or unlined and have a ribbon, cloth or leather sweatband. Small size feathers or chinstraps may also be added for decoration.Know more about fedora in wikipedia.
Below is what fedora hat looks like.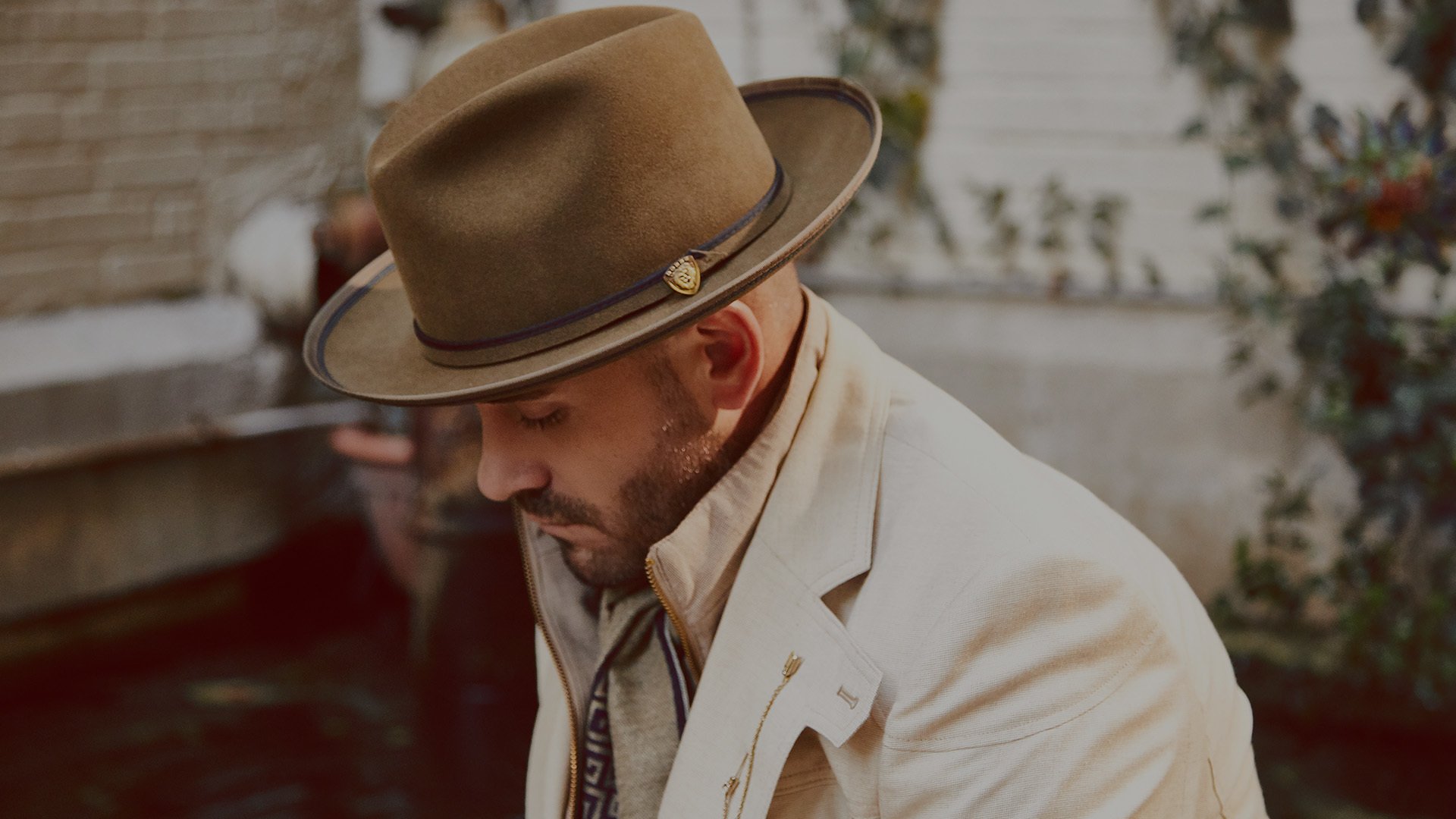 What is a Fedora Hat Made of?
A high quality material and construction for the fedora is a must. The first traditional fedoras were made of either a fur-felt or wool-felt hat. However, today's fedoras are made from any number of materials including straw, tweed, hemp, leather, and wool-synthetic blends. Generally, the timeless classic fedora hat is typically made from durable felt or wool fabric.
History of the Fedoras
The term fedora was in use as early as 1891. The word fedora comes from the title of an 1882 play by dramatist Victorien Sardou, Fédora, which was written for Sarah Bernhardt. Bernhardt played Princess Fédora Romanov, the heroine of the play. During the play, Bernhardt – a noted cross-dresser – wore a center-creased, soft brimmed hat. The hat was fashionable for women, and the women's rights movement adopted it as a symbol. After Edward, Prince of Wales started wearing them in 1924, it became popular among men for its stylishness and its ability to protect the wearer's head from the wind and weather. Since the early part of the 20th century, many Haredi and other Orthodox Jews have made black fedoras normal to their daily wear.
source: en.wikipedia.org/wiki/Fedora
The introduction of a new line of felt hats made from nutria, which is an animal similar to the beaver, helped establish the fedora as a durable product. Starting in the 1920s, fedoras began to rise in popularity after the Prince of Wales adopted the felt hat as his favored headwear. As a result, "the soft felt hat replaced the stiff hat as the best seller in the decade." The fedora soon took its place as a choice hat and joined other popular styles that included the derby, homburg, and Panama.
In America during the 1940s, the brims of fedoras started to increase in width, while the British maintained a slightly smaller brim size. The colors of fedoras traditionally included shades of black, brown, and gray. However, this palette would grow at the onset of the Second World War to include military themed colors such as khaki, blue, and green.
One of the most prominent companies to sell fedoras was the department store Sears, Roebuck and Company. In addition, famous hat manufacturers which still exist today include Bailey, gigi pip, and Stetson.
When Should You Wear a Fedora?
The fedora is a much more formal hat, it may be dressed up or dress down gracefully. Therefore, these hats make the ideal accessory option to wear to a semi-formal or formal event or occasion.
source:https://manofmany.com/wp-content/uploads/2017/10/Guide-to-Wearing-Mens-Hats-With-Suits-11-600x400.jpg
But today many wear some styles of fedora hat with jeans or other casual clothing sometimes. The style can work well with just about anything. Depending on the type of material the hat is made from, it can be a casual hat.
Panama straw fedoras are a no-brainer for summertime and beachside weddings.
How to Wear a Fedora?
To complete your look, just team your fedora with a sophisticated suit or pair of smart trousers with a fitted shirt and blazer, vest or coat.
It should also be worn slightly over the eyes, rather than on the back of the head.
Types of Fedora Hats
The fedora for men or women comes in a variety of styles and color, such as cowboy hat, short brim fedora, wide brim hat, vintage fedora hat, etc. From straw fedoras to panama fedoras, this classic accessory has an option for everyone. Some of them are listed below. And Huayi Hats can offer wholesale fedora hats for you.
Straw fedora hat
What is a fedora straw hat? Straw fedoras are made of high-quality, durable and dexterous straws like hemp, wheat, raffia straw and paper straw. Crafted of straw, these hats are both stylish and useful in a range of different situations, such as gardening, beaching, camping, hiking, race day events. They can protect you against the sun's rays and keep you cool and comfortable.
Pork pie fedora hat
For a porkpie fedora hat, the top of the crown is pinched in & the crease is circular in design, which is also known as, a telescope crown. In addition, the brim is very short and points up. Most people refer to the brim type as having a stingy brim.
Wide brim fedora hat
A wide-brim fedora hat is any hat with a brim that measures 3 inches or more.
Although they can be constructed from any number of materials, straw floppy hats have become a go-to womens sun hat for those long summer beach days. The added benefit of womens fedora hats with wide brims is that they immediately amp up your style in a way that no small hat can do.
Homburg fedora hat
Homburg hats are named after the town of Bad Homburg in Hesse, Germany, a spa destination famous for its healing waters. The homburg fedora hat has a tall round crown with a single center crease. Also, the brim is turned up all the way around, creating a curled-up effect along the edges similar to a cowboy hat. Even though some homburgs are wide-brimmed hats, they appear to have a stingy brim because of this distinctive upturned style. Know more about homburg hat in wikipedia.
Panama fedora hat
A panama fedora hat, also known as an Ecuadorian hat or a toquilla straw hat, is not from Panama but from the lowlands of western South America, primarily Ecuador. The hats were made from the plaited leaves of the Carludovica palmata plant. Therefore a panama hat is not a style but rather a hat from this particular straw material.
Cowboy fedora hat
As a general rule, a cowboy hat will have its brim turned up on both sides. Modern cowboy hats are made of fur-based felt, straw or, less often, leather. They are sold with a tall, rounded crown and a wide flat brim. They have a simple sweat band on the inside to stabilize the fit of the head, and usually a small decorative hat band on the outside of the crown.
Trilby vs Fedora
Below is the table of "trilby vs fedora hat". If you want to learn more, please click trilby vs fedora.
Difference
Fabric
Brim
Crown
Wear
Usage
Fedora
traditionally, higher-end, durable material: wool or felt
a wide brim size varying from 2 to 3 inches
teardrop crowns, diamond crowns and many more
a true gentlemen style;
be worn slightly over the eyes
upscale occasions;keep the elements off the wearer
Trilby
less expensive material: often tweed or straw
narrower brim often curled up on the edges
Trilby has a pointier crown than the Fedora
more casual;be worn on the back of the head
providing no practical purpose other than being a trendy headpiece
What is the Difference Between a Fedora and a Panama Hat?
Below is the table of "fedora vs panama".
| Difference | Fabric | Color | Season | Usage |
| --- | --- | --- | --- | --- |
| Fedora | wool or felt | multi-color | autumn, winter | upscale occasions |
| Panama | plaited leaves of the Carludovica palmata plant | light-colored | spring, summer | breathable |