How to wear a cowboy hat
Nov 17, 2022 by HatsFashion
Cowboy hats have left behind their former stage just as an accessory focused on country line dancers or western culture lovers and now is a must in the newest street styles introduced at Copenhagen's or New York's fashion weeks, or the fact that Instagram stories, reels and post from many fashionistas and genuine cowgirls and cowboys are flooded with several western hats. This is the statement of one of the most prestigious fashion magazine, Harper's Bazaar, that published an article dedicated to cowboy hats in current fashion trends.
The Far West aesthetic is becoming more popular in the fashion industry and today has its own place. It's common to find many people incorporating western clothes and accessories in their casual looks, as in the past cowboy had been standarized as a basic footwear.
Looks like the next trend in line might be the western hat, being one of the main features by some 'haute couture' brands. Prior to this we found out one of the most popular filters on Tik-Tok & Instagram last year was the cowboy hat filter, and it seems this 2022 spring/summer season this trend will move a step forward.
We don't know yet the reason that brought you to read this article, but we can make a guess. Maybe you wanted to check with a specialist store how people look wearing a cowboy hat. Perhaps you're a line dance newcomer that need a white western hat, or you love everything regarding western culture. Finally, you're none of this but you think western accessories look cool and you want to learn a little bit more. Whatever was the reason that made you find this article, at HatsFashion today you will learn how to find the perfect cowboy hat for you.
Cowboy hats' definition and history
We understand a cowboy hat has a wide brim that curls upwards and a shaped crown, depending on the model and purpose. Sometimes you can change the brim shape to adapt your western hat to the current weather or just for fashion reasons. Don't forget that cowboy hats have a functional design made to protect you from the direct exposure to sun and rain, but over the time this western gear represents an iconic culture and way of like that extended across countries and continents until today.
At the beginning, during the American Civil War, John B. Stetson designed in 1865 what it's considered the first cowboy hat ever, with a shape much less rounded than now. This first Stetson's cowboy hat was made with beaver and rabbit furs, mixed with other delicated furs, and was the answer for a highly demanded kind of hat in the American West, being popular right after its release.
Over the years, this first western hat model was redesigned by many cowboys and cowgirls depending on the place and weather. Mexicans elevated the crown height for a better heat insulation, increased the brim diameter to give the holder a better and bigger shade, and uplift the brim edges as well. After this changes we can recognize the original American cowboy hat that has been exported worldwide and used in all kind of weather conditions, to look better, for country line dancing and so on.
One thing is for sure: find the western hat that fits you the best it's easier at HatsFashion. Just check out cowboy & western hats catalog whilst reading this to make sure of that.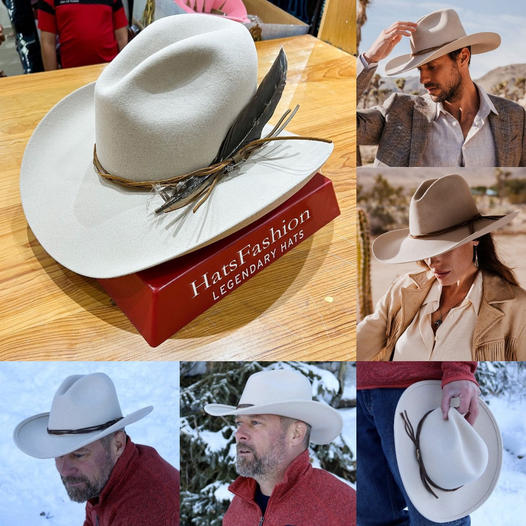 Choosing your perfect hat
Before buying a cowboy hat, first you should check which size you need, so you will feel a perfect adjustment on your head. If you want to buy online a western hat at HatsFashion, wait a second and take note of this, as we know the best way to know which hat size you need, explained in some brief, easy and understandable steps:
Use a soft tailor tape, you know, the ones for sewing that are flexible (don't use a metallic one).




Look yourself in a mirror and hold the tape end one centimeter over your ear, then surround your head with it and remove after a full turn was done.
This should show you a measure between 53 to 62 cms. (for adult people and youngsters), that related to your head circumference. And that's it! With the measure you calculate it's so easy to take the hat size your need without trying it on.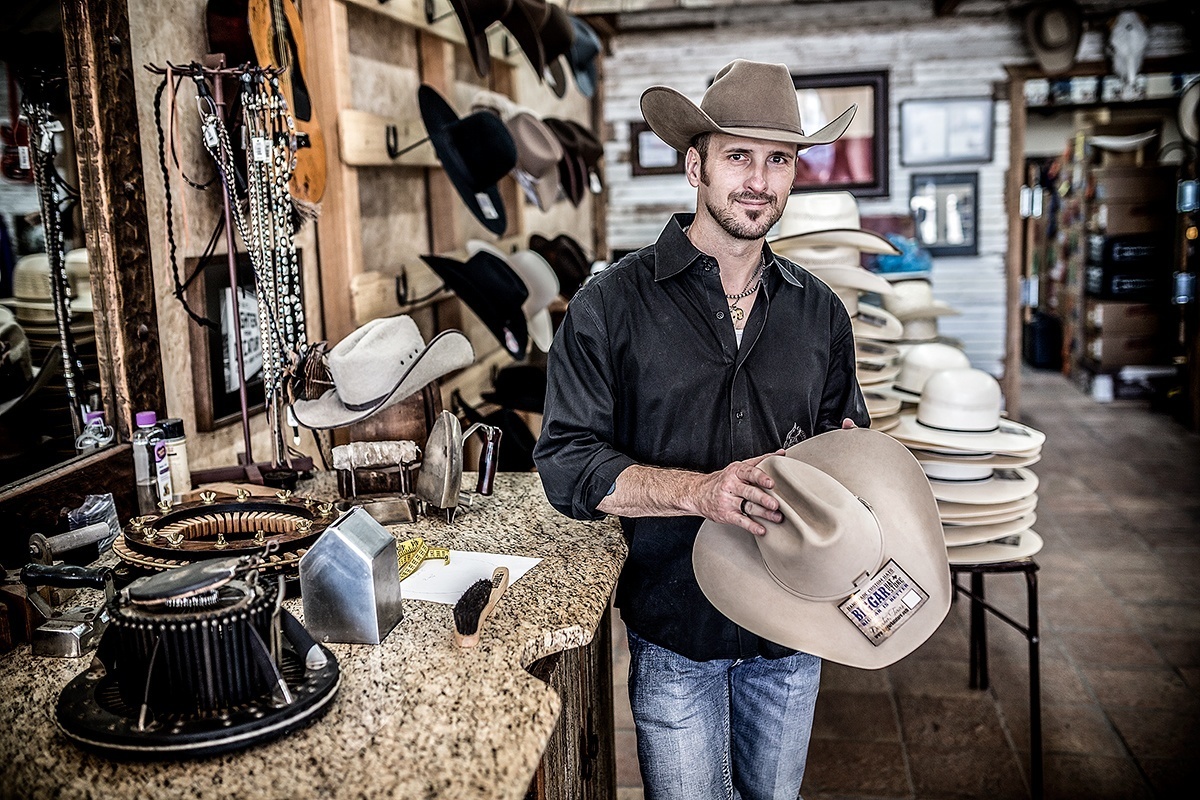 It's said that some western hats are made for prolonged faces, amd some others for oval faces. Personally, we consider this is a personal choice, but in case this helps anybody, we'll try to help you unveiling which cowboy hats look better with your face attributes.
If your face is thin and oblong, better choose a regular crown height, to try not creating an excessive elongation, and maybe being unflattering for yourself.
In case your face is wide and oval-shaped, probably a regular brim width would be the best for you. With a shorter brim maybe your face looks wider.
And if your face has a rounded contour, a lower crown will suit you better.
Having long hair means you should be aware of how correctly wear your cowboy hat, to avoid feel uncomfortable while putting back the hat on its place. For example, we suggest to comb your hair back if you have very long hair. In case of wearing a ponytail, tie it up as lower as possible.
It's always good to know that the way you wear your western hat means a lot, and depending on how it's placed, your appearance and the non-verbal communication change drastically. For a more casual and friendly look, move up the front, so your forefront can be seen. Reversely, for a serious or even mysterious look, cover all your forefront and twist down the hat so only your eyebrows can be appreciated.
What you should avoid at all costs is wearing your cowboy hat on your neck or at a side, because every true cowboy and cowgirl know there is a strict etiquette to respect. By downplaying the use of a western hat, you're being disrespectful with those who wear it daily because it's a vital part of their lifes and works.
After telling you all of this, are you craving maybe for a cowboy hat? Yours are waiting at HatsFashion, so come on, it will be the start of something very special for you.